He Knows Where You Are: Misogyny in Horror Cover Art
Misogyny had always been an accusation faced by the reigning slasher films of the 80's, and on the surface, it's hard not to notice. Their usual formula was obvious: the systematic slaughter of sometimes promiscuous women one after the other (and a few of their boyfriends for good measure). One film that immediately comes to mind is a favorite of mine, Maniac from 1981. The poster art with its infamous tagline, "I warned you not to go out tonight…" just begged for trouble, and trouble it got.
I don't really want to go into a long tirade about this overly debated topic so I'll keep this short. This article is truly intended to be a critical look at the video covers themselves, not the debate. But it's difficult to not touch on the issue briefly to place the artwork into context. Is this really misogyny? Are these filmmakers consciously deciding they hate women so much that they must rape and slaughter them mercilessly for the pleasure of their fellow male humans?

This goes way back. Way past the women's rights movement, way past the birth of cinema. These films aren't fulfilling some deep dark desire to "put women in their place," but rather taking on a new perspective on classic "damsel in distress" legends.  A prime example can be found in Disney's first animated full-length film, Snow White and the Seven Dwarves. Here, we have a chilling scene of a monstrous, rugged man (the Huntsman) who is contracted to kill Snow White. He descends from within the darkness of the woods, creeping up behind her as he lifts a knife. Of course he doesn't end up doing the dirty deed, but the intention was there. As many of you are probably aware, Snow White is a classic Brothers Grimm fairy tale whose first publication dates back to the mid 19th century (although the actual legend may date back even further). There was never any major debate about the scene with the huntsman in the woods in the 1937 Disney film, likely because the Huntsman has a change of heart. In classic tales similar to Snow White, someone like a chivalrous prince or knight would come to her rescue. This is almost always the case for these age old tales. These tales are likely inspired by the unfortunate truth that women are more likely to be attacked or sexually assaulted than men are. It's a terrifying scenerio based on reality and because the horror industry thrives on frightening people, it takes this approach. It's a scenario in the papers, on the evening news and everywhere else  the media. It's a very familiar situation the public could relate to.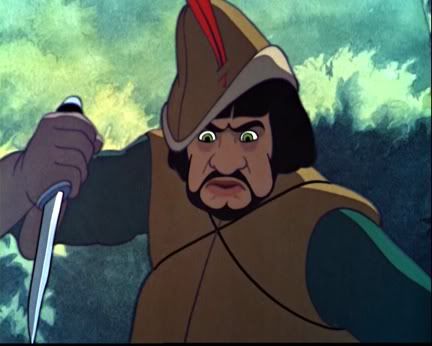 Where many of these classic tales end, the slasher film continues. Often many women one after the other (including some males) receive  that final blow to end their lives. The "final girl" in these films often resorts to saving herself by outsmarting the killer. I don't know about you, but a woman who must rely on her own will and not prince charming seems a lot less misogynistic to me. In fact, I believe it empowers women. The greatest example of this is Meir Zarchi's I Spit On Your Grave where a single woman takes down several men in an act of vengeance.
These sorts of films would of course be marketed the same way they were made and because the large majority of the genre's audience was male, they were sure not to offend those who mattered most. I absolutely love these so-called "misogynistic" covers.  Not because I'm a spineless chauvinist, but rather I absolutely love the "woman in peril" set up. It's a classic horror theme that is reflected in cultures around the globe, and has been for centuries. When a woman is beaten on a cover, I'm not thinking, "that's what you deserve, bitch." Instead, what I'm thinking is "wow, I hope that guy gets what's coming to him." In an artistic sense, I love the emotional power of the imagery. This doesn't only apply to slasher films, but Italian giallos as well. Seeing a cruel man overtake a helpless woman is sure to create an emotional reaction, and it's the reaction itself I really enjoy.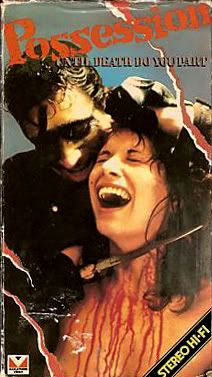 There are several forms of misogynistic covers. I decided to distinguish them by the amount of presence a male has in relation to the woman. This becomes significant in deciding whether these covers are really misogynistic in the feministic sense or just simply poor taste. Bear in mind that it might be difficult to fit some covers into one of these categories since so many covers are so different, but these categories are the first step to understanding these alleged misogynistic covers. Please note: we are taking a critical look at the covers themselves without taking the film content itself into consideration.
Category #1:
A single suffering/slaughtered woman or a woman cowering in fear.
Her throat may be slashed or she may have a gaping wound in her back while lying in a puddle of her own blood. There aren't any implications as to who killed her or who's looking for her, but because it's a woman at all, some may take offense to this. In the above examples, we have three dead women, one having been decapitated.
In the above examples, we have the gruesome imagry of Unicorn's Die Screaming Marianne, with a woman screaming in agony only moments before her death. Pieces is a bit more simple, with a stitched up body of a woman. The third, the Creepers, shows a woman who appears to be escaping a rape attempt. Take a note of the frequency of blonde women in these images and the ones to follow.
Catagory #2:
An unseen figure attacking a woman.


The face or body may be outside the image or obscured by shadows or even by a mask with no obvious clues of gender. Although we don't know with certainty whether it's a male, female, or some sort of humanoid creature, it's a strong figure attacking a woman, and thus, many would likely assume it's a male. Also notice how all of these include a sharp weapon.

Catagory #3:
Emotionless male figure attacking a woman or with dead/dying woman present.


These are usually considered misogynistic purely for the fact that the woman is on the wrong end of the attack. But what separates these from those in the next stronger category is that from the art itself, the attack doesn't appear to be a personal, angry, or hateful one. In other words, this male attacker could be killing a man or woman and it wouldn't make a bit of difference, and it shows from his demeanor. Of course the film may prove otherwise, but from only looking at the artwork, this is what we can tell.
Catagory #4:
Large, masculine, emotional man attacking partially nude woman or women in sexual context against their will.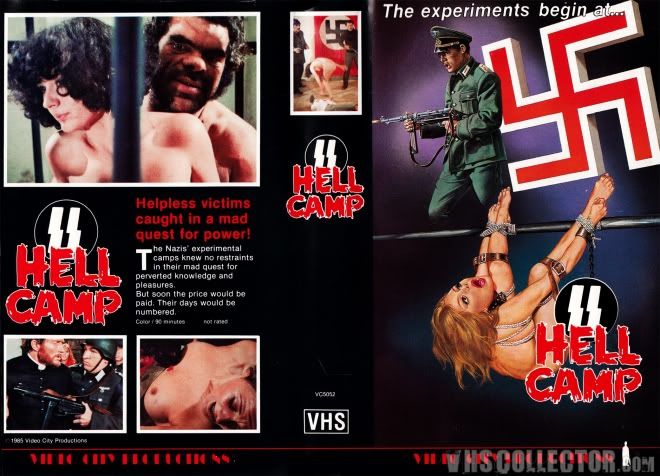 Here we have a woman who appears to have escaped a rape attempt. She's usually blonde, small in stature with the appearance of helplessness. The emotional reaction on the males face or body language is vicious, aggressive, and often times angry (if face isn't present, body type clearly tells us it's a male). These are the most controversial of covers, and of course the most common. Also in this category I would put woman in a vulnerable sexual position against her will. For instance, a partially nude woman in bondage. Because men are "sex-crazed maniacs," we assume it was a filthy pig who put her there.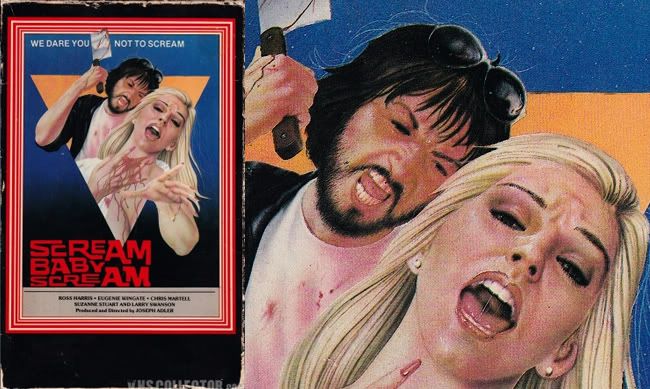 The two above covers always came off to me as the most "misogynistic" out there, and because of this, I absolutely love them. Both of these have several factors in common. One, that our intimidator has a beard in both of them. This gives the attacker a boost of masculinity, differentiating him more from the woman he's harming. It also gives him a strong, machismo appearance, making the woman look that much more defenseless in contrast.  Also, note that both have a weapon and are in the process of bringing down that final blow with a look of absolute rage or hatred on their face. And like most of the covers in this article, the women are blonde.
Despite the similarities, there is a difference in intensity. In Avenged, our woman has her back towards us with her arms up in a defensive position. With Scream Baby Scream, our woman is reaching out for our help. Her aknowledgment of us gives her a small shred of hope, whereas in Avenged, she has absolutely no hope at all. She's topless, in an open field with nowhere to run, and with more men to come. Of all the art I've seen, I always found Avenged to top them all.
Overall, these covers do come off as misogynistic but only because they reflect something awful in society. These films and the images used to promote them weren't made to promote hatred or anger, but rather fear, as a horror film should. When people say, "life is stranger than fiction," its usually true. It's even more so true that "life is more frightening than fiction." Although these scenerios are only depictions, they reflect the cruel reality of our world and in many cases, this is far more frightening than any creature or monster Hollywood could ever imagine.
(Of course there are a ton more of these types of covers and I wish I could incorporate all of them. In the future, I will make a companion article to this one showcasing even more of these sorts of covers)