Body
Years ago, my parents were at a flea market and came a cross a vendor selling stacks upon stacks of old video cassettes. Thinking I'd be interested, my father gave me a call and ran some titles off. It wasn't long before I realized there was something special here. The following weekend, I joined my parents and found a guy selling a truckload (literally) of video cassettes. As it turned out, he had won a bid on a storage unit which was stacked to the ceiling with video cassettes. They had come from a local video store chain that had shut down, The Videomat. Digging among the heaps of videos, it was difficult to contain the excitement. Horror big boxes scattered everywhere. I snatched up what I could and asked the guy if he had more elsewhere. He did, and gave me an address to where he rented a garage. Inside, I went through every crate and walked out with boxes of rarities for less than a buck each.Brimming with joy, I jumped on the internet to brag about the haul, thus, kicking off my first YouTube channel dedicated video collecting (the original video series of the find can still be seen on The Analog Archivist channel, reuploaded from the original DivourTheFlesh channel). Among the videos I found that day were two copies of Terror On Tape.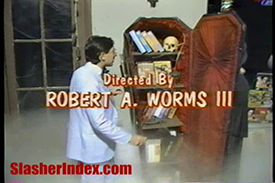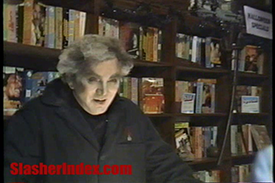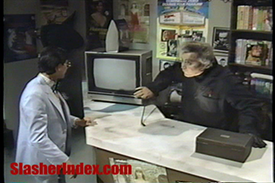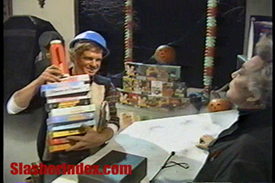 Terror On Tape couldn't have been a better choice for my first big box review. It was basically a shrine to 80s horror VHS, and to top it off, it featured Cameron Mitchell as a spooky video store owner. Perfection. While working the counter, several oddball patrons enter his shop, asking for recommendations. On a small TV set, he plays various clips of movies for them (which we also watch). One of the patrons was a pleasant surprise - scream queen Michelle Bauer. In this, she's a vampiric chick who gets her kicks from fears, to which Cameron is happy to oblige. Several years later, Bauer would actually become the host of a horror compilation cassette of her own, the rarely seen Monsters & Maniacs from Donna Michelle Productions.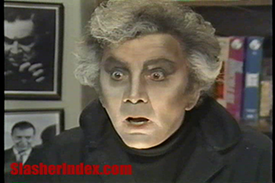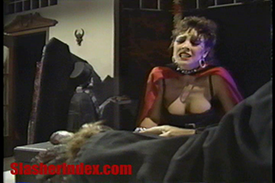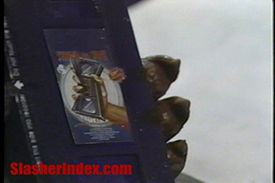 As a collector, it was fun to see all those pristine brand new Continental Video big boxes on the shelves of the shop. Continental could have easily made this thing a cheap clip show, but its definitely not. They created a video store set and decorated it with the macabre, they hired two known names in the horror biz and to top it off, they shot these segments on film. Most would assume these had been done on video, I once did. But upon my most recent viewing of the movie, I discovered dust and scratches - indicating they were shot on film. This brings up an important question - does a film print exist for Terror On Tape?! Even if one does, we'd probably never see it since many of the clips are now owned by many entities, but its still a curious thought. The possibility of maybe seeing Terror On Tape on the big screen adds a whole new dimension to this release.
Some of the movies included in this compilation are: Suicide Cult, Alien Prey, Frozen Scream, Nightmare, Scalps, The Slayer, Eerie Midnight Horror Show, Cathy's Curse, Return of hte Alien's Deadly Spawn, City of the Walking Dead, Color Me Blood Red, 2000 Maniacs, Blood Feast, Vampire Hookers, Madhouse Mansion, Bloodtide, To the Devil a Daughter, and more.